Cabourg is an open book of Belle Époque architecture, of which our seaside hotel, the Hôtel de Paris, could be considered the bookmark. Built in 1881, it has witnessed all the stages of Cabourg's evolution in the golden age of seaside resorts. The destruction of the old casino (built of wood) and the old Hôtel de la Plage, the construction of new "hard" buildings by Charles Bertrand, the inauguration of the Grand Hôtel in 1907 (Marcel Proust's favourite establishment)... he has seen it all! To stay here is to live in the very heart of the city's history. A very vibrant heart, given its privileged location. The Avenue de la Mer is Cabourg's main shopping street. It is the city's heartbeat, and to stroll along it is to feel its pulse.
Towards the city or the sea, you choose. Everywhere you look, you will be amazed by these Belle Époque villas, whose style evokes the imagination of owners who were as creative and demanding as they were unlimited in their budgets. To admire them is to plunge into a Gatsby-like atmosphere. The "sea" option will inevitably take you to the unmissable Grand Hotel, the Casino and the 3.6 km long Marcel Proust Promenade. The horizon is wide open and the air is crisp. The aperitif walk you take here is a great taste of Normandy and there is something for everyone.
The 40 km of the Côte Fleurie, from Honfleur to Merville-Franceville, and the Pays d'Auge will delight delicate aesthetes and lovers of green nature, while lovers of the 7th Art will be magnetised by Deauville, painting enthusiasts by Honfleur (like Boudin and many others), and history buffs by the D-Day Beaches and the so realistic evocations of the D-Day A great programme of visits from our hotel in Cabourg, close to the seaside.
Discovering the coastline
Normandy has several places and traditions listed - or registered - as UNESCO World Heritage sites, as well as charming seaside resorts and villages listed as "Most Beautiful Villages in France".
The Queen of the Côte Fleurie
Once you cross the threshold of the Hôtel de Paris, all the facets of Cabourg shine with elegance: Belle Epoque villas, the Casino, the Marcel Proust Promenade, the infinite beach...
Half an hour from Cabourg, Deauville, the star of the Côte Fleurie, lets you discover its passions: horses, cinema, the beach, shopping...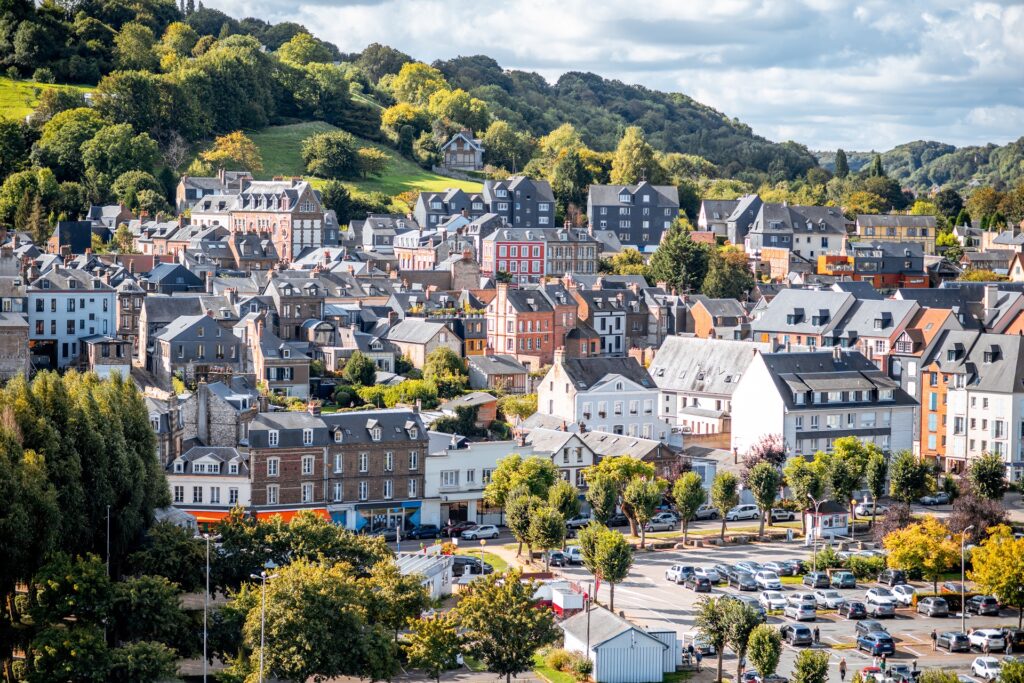 Celebrated by painters, Honfleur is a must-see destination on the Côte Fleurie. Its Old Basin and the Lieutenancy, the picturesque houses of the Quai Sainte-Catherine, the art galleries...
At the heart of the story
Only half an hour from our hotel, the Sword Beach area of Ouistreham invites you to travel back in time to the D-Day landings of 6 June 1944.